Deep pantry organization becomes an overwhelming task if you let it get out of control. It is best to stay on top of it before it gets too bad. However, if yours is already past the point of no return, then you are in the right place. In this article, I am going to show you how to organize a pantry with deep shelves.
The Pantry
Unlike the main area of the kitchen, the pantry is a particular space whose function is to store all the cooking tools and ingredients out of sight.
Today, the presence of a pantry is common in many countries. Derived from the French word Panettiere, the pantry is usually not very spacious. The average pantry will only take up minimal space with a door to keep its many contents out of sight. 
The pantry is typically loaded with various objects. From collections of cookware to cooking ingredients. It takes a tactical approach to store all of these items properly. If you're looking for a solution to deep pantry organization, here are the steps to take:
Tips For Deep Pantry Organization
1. Choose Neutral Color Paint For the Deep Pantry
The shape of a small pantry will look more crowded and stuffy if you are not careful in choosing the paint color for the pantry room. Work with neutral-colored paint, such as white, gray, or cream. These cool colors have a reflective nature, aka getting brighter when exposed to lighting.
Additional tips for a prettier pantry look include choosing baskets, jars, or other kinds of storage similar in color. Try to choose fitting colors to make the pantry look clean and neat.
2. Take advantage of Transparent Containers
For food storage, it's easier if you directly store cereals, flour, sugar, and other food ingredients in their original packaging. But imagine how disorganized the pantry can be at home. Better to move any groceries purchased in a new line of jars or uniform containers.
So, what's the relation between deep pantry organization and transparent jars?
I also advise you to choose transparent jars or containers because they are easy to find when needed. In addition, labeling also makes it practical. Don't forget to note the expiration date of each ingredient; just stick it on the lid of the jar and continuously update it every time you fill it.
Another benefit of using jars is size and shape conformity. It is much easier to store items of the same size and shape. Another benefit is just pure aesthetics. Your pantry will feel much larger with your well-organized containers all in a row.
3. Enable the Side of the Pantry Door
You can add additional storage to your deep pantry by utilizing the door. You can install vertically various hooks, hangers, or shelves to store various additional objects.
Due to the nature of the pantry door, which is often opened and closed for access, avoid placing a load that is too heavy. 
It is ideal to use the side of the pantry door as a place to hang cooking utensils as long as the objects hung do not block access to the pantry.
The back of the pantry door is also helpful due to its high visibility. When you open the door, your storage space is now in the well-lit kitchen. I prefer to put smaller items that are always getting lost at the back of the deep shelves in my door storage space.
4. Hanging Rack Installation
If the pantry has a narrow, elongated shape, the right solution is to install hanging wall shelves to maximize your pantry space. Put things rarely used on the top hanging shelf, such as cooking utensils that you only take out on special occasions. You can put the ingredients you use every day on the lower shelves.
5. Add a Deep Drawer
Shelves generally dominate the pantry. If you have a large enough pantry room, you should consider bringing some drawers in that can be opened and closed quickly.
Drawers are practical because many ingredients can accumulate in hard-to-see spots and be forgotten about and replaced before using them. So instead of these materials being lost to the abyss of your deep pantry, store them in drawers so you can visually take stock of your supplies.
6. Pantry Floor Cleanliness
The next aspect of organizing a pantry with deep shelves that you should look into is cleanliness.
Often you will find the pantry floor crowded with objects. Ideally, the pantry floor under the shelves is left unattended or at least becomes a multifunctional storage area. Use a trolley with wheels installed. When you clean the pantry floor, just slide the trolley out.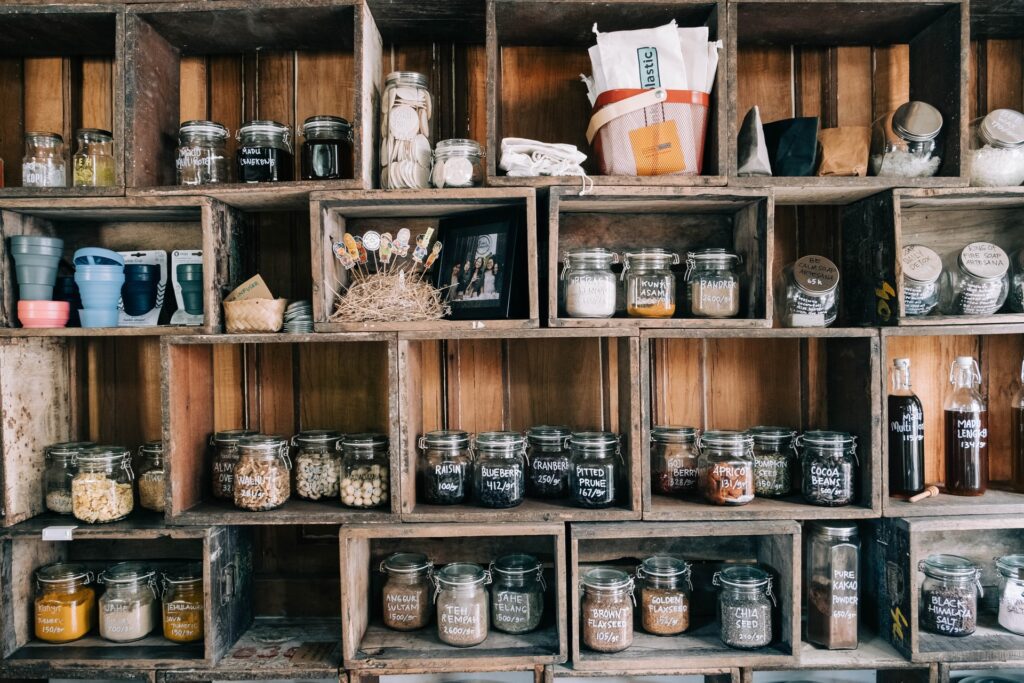 7. Create Different Zones
The pantry may be small, but it must have proper storage procedures. Create zones in the pantry by sorting and storing according to the object's function.
For example, store all the baking supplies in one corner, pack kitchen spices in a bamboo basket, or make special snack hangers to welcome the children home from school.
Planning the proper pantry should also start from the zones that suit your needs. Position food items in front for easy access and store non-essentials in high or deep locations.
8. Use Pegboard for Kitchen Equipment
A pegboard is a hanging board made of plywood that has holes. If installed on the wall, the pegboard can be a hanger without requiring you to install nails.
Pegboard is generally readily available in hardware stores and available in different sizes. If you can not find your size, it can be cut to fit your space.
Its sturdy material and streamlined design make it an excellent hanger for kitchen utensils. Use pegboard as a place to hang pots, pans, skillets, and various other cooking utensils.
9. Don't Forget the Pantry Corner
The corner of the pantry shelf is often an abandoned space, but that doesn't mean you have to let the corner of the pantry shelf become useless. Work around it with a circular container or tray. Round trays with swivel wheels are also ideal for cooking spices.
10. Smart Pantry Solution Stroller
Do you still need storage even though you have maximized the entire pantry room? It's time for you to present a mini stroller or trolley often found in the living room or kitchen at home. 
Just fill it with things that are often used in the kitchen. Thanks to the wheels that make it easy to move from one place to another, this carriage will be a practical and beneficial addition to the storage pantry!
11. Steal Ideas From Things Around You
Need a special place to store canned food? Just use a magazine holder or archive container usually found in the office. You can try a plastic shoe hanger as an organizer for kitchen spices. 
Conclusion
With these 11 deep pantry organization tips, you should be on your way to a cleaner and better-organized space in no time. If you have your method on how to organize a pantry with deep shelves, please share it with us in the comments below.