The garage is often a neglected home area frequently used as a holding area for misplaced possessions. But, with a few easy tricks, you can increase storage and use your garage as a functional addition to your house. 
Here are five genius tips for organizing your garage to maximize your available space:
Decluttering the Garage 
Clearing out your junk will undoubtedly transform your life in terms of organization and peace of mind. Additionally, there is no purpose in organizing everything if you still have a ton of unnecessary possessions. Sort the items into categories based on their importance and frequency of use.
There might be extra items you don't need. A garage sale is the best place to eliminate all that junk. Additionally, once the clearing phase is finished, it will be much simpler to take everything outdoors so that you can progressively redesign your garage.
Zoning Into Parts
This entails designing a functional floor plan for your garage based on size. It may be possible to design a garage floor plan that uses one corner, depending on the size of your garage and the amount of stuff you want to store there. 
You can include workbenches and roller garage shelves in a corner to serve as additional storage space to help in achieving this. Zoning makes it much simpler and more valuable to access the tool shelves in the garage. Additionally, you can designate space for the belongings of adults and children.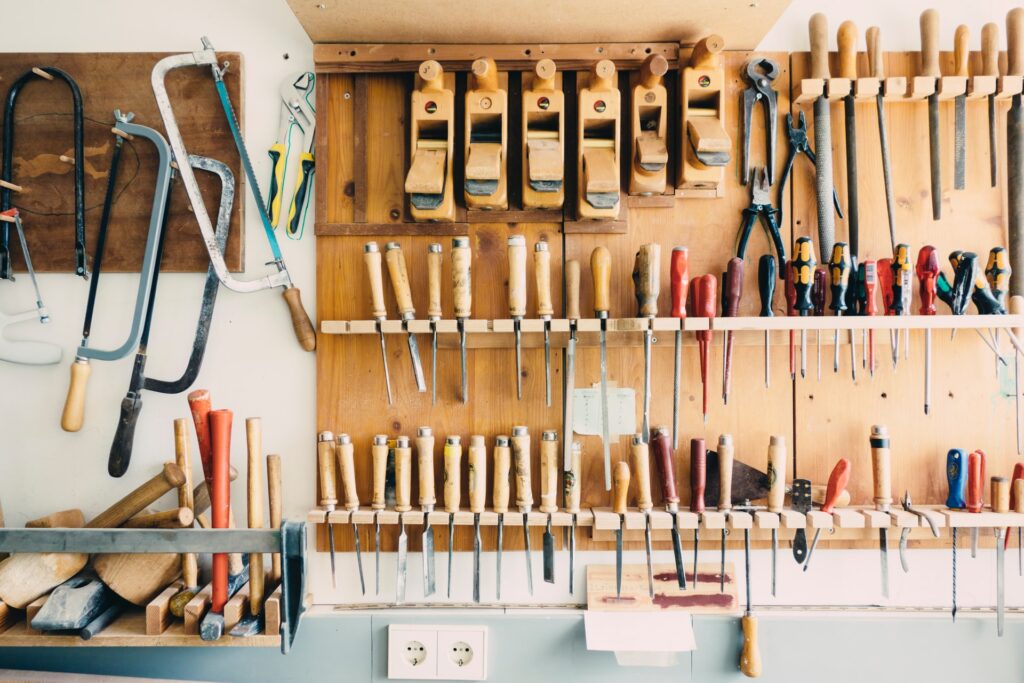 Using those Walls 
While many focus more on using garage shelves or cabinets for storage, capitalizing on garage walls quickly becomes the preferred storage method. You can use the garage walls in a variety of ways;
Pegboard Method: The pegboard system can be used to arrange smaller equipment. You could get a pegboard with hooks and tiny containers from a store. 
Wall-mounted bin racks: Do you frequently lose small tools like nuts and screws? Well, no more worrying. Use the wall-mounted bin storage system to store buttons, bolts, nails, beads, and anything else. 
Another strategy would be to buy recycling bins and mount them vertically on a wall yourself, or you could put the bins on overhead garage storage shelves.
Garage Shelves and Storage Cabinets
Garage shelves can be affixed, or you can only utilize a wire shelf model that is moveable. If there is room, strategically placing cabinets will guarantee that you keep items stored safely. 
Remember that, unless you're employing a moveable shelf system, these systems are permanent. To eliminate the headache of trying to find your equipment, ensure a proper labeling system using stickers for the shelves and, in particular, recycling bins.
Locker Room 
Do you like the idea of a kid's locker room as it removes all those toys off the floor? For the kids to store their possessions, such as toys, shoes, clothes, and the like, the garage may make a great "locker room." Additionally, it is the perfect location to hang objects that are not frequently used.
Final Thoughts
You can do much more with your garage to begin some organization and facilitate efficient working. As a final piece of advice, given the size of most garages, beginners (and even some seasoned drivers) may struggle to park their car. 
If so, you might decide to hire a short-term storage facility to make room in your garage. Or devise a method to guarantee that your car fits without jarring your possessions. You can use a hanging ball or cell tape to indicate the boundaries. 
So, what other organizational tips do you have to make the garage area more efficient?